Women's T-Shirt Dead Sea Post
100% cotton t-shirt an illustration of an Ibex floating the Dead Sea reading the Dead Sea Post. Design from The Nature Collection by famous nature Israeli artist Walter Ferguson. Cut to fit a woman's natural shape. See the chart in the description for sizing information.
Item # : WTH011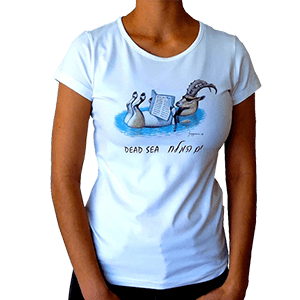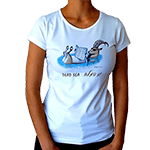 Stock Review
Color:White Size:Small - In Stock
Color:White Size:Medium - In Stock
Color:White Size:Large - In Stock
Color:White Size:X-Large - In Stock
Color:White Size:XX-Large - In Stock
The Nature Collection Dead Sea Post Women's T-shirt

100% high quality cotton t-shirt, medium weight.
Available in white only.

This t-shirt is really fun! It is cleverly illustrated with an Ibex (a wild goat native to Israel), floating in the Red Sea reading a copy of the fictitious "Dead Sea Post". Visitors to the Dead Sea often find it amusing that due to the high salt content, they can easily float while reading a newspaper. Designed by Israeli artist Walter Ferguson.

Attractive women's cut t-shirt is tailored for ladies with a narrower cut waist, a rounded thin neckband, and shorter sleeves to better fit women's natural shapes.
Women's T-shirt Size Charts

Please use the chart below to determine the best size for your purchase.
As per the illustration below, JesusBoat.com T-shirts are measured by their length and width when laid flat.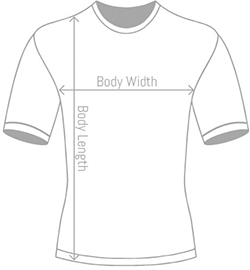 Women's T-Shirt : Sizes (in inches)
Women's T-Shirt : Sizes (in cm)


Walter Ferguson was born in New York in 1930. He has been drawing since childhood. He received his formal art training at the Yale University School of Fine Arts and at Pratt Institute. Mr. Ferguson has always straddled two disciplines, art and zoology. He has illustrated twenty-six books, wrote and illustrated "Living Animals of the Bible", and numerous magazine articles. His paintings have appeared in LIFE magazine, The New York Times, Audubon Magazine, and for Reader's Digest Book Division, The Society for the protection of Nature in Israel, The Nature reserves Authority (of Israel), and the Weizman Institute of Science. His paintings have helped raise funds to restore endangered species of animals to Israel.
Mr. Ferguson moved to Israel in 1965, taught briefly at the Bezalel School of Arts and Crafts in Jerusalem, and then became staff artist for the Department of Zoology of the Tel Aviv University for more than twenty-three years.
Walter Ferguson is married and has four children. His home and studio are in Beit Yannai, Israel. Mr. Ferguson's paintings are in private collections in many countries.
Review this product
Please log into your account to Add Your Comment.