Save 15% on Set of Mustard Seed, Salad, Hyssop Seasonings
Flavors from the Holy Land Bible Herbs. This set includes Aromatic Mustard Seed, Galilee Salad Rich Mix Seasoning and Biblical Hyssop plus a 15% discount over individual bottles.
Item # : FD062ST4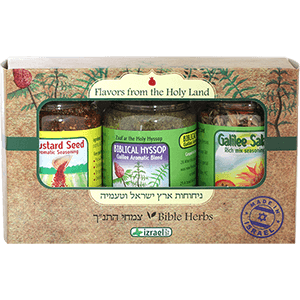 Set of Bible Seasonings Mustard Seed, Salad, Hyssop Seasonings

100% Produced and packaged in Israel.

Izrael Za'atar Ltd understands the value of being part of and giving back to the Israel community. These spices are packaged and labeled by over 50 special needs workers providing a source of independent livelihood.

This set includes:

Aromatic Mustard Seed - 6.3 oz. | 180 g - Ingredients: mustard seed, sweet paprika, salt, oregano, basil, thyme

Galilee Salad Rich Mix Seasoning - 4.2 oz. | 120 g - Ingredients: sunflower seeds, pumpkin seeds, almonds, pine nuts, dry onion, parsley, sea salt

Biblical Hyssop - 3.5 oz. | 100 g - Ingredients: Hyssop, Sesame, Elm-leaved Sumach, Lemon Acid, Salt

The Land of the Bible was blessed with many herbs and spices. The Great Rift Valley along its Eastern Border has a special climate facilitating the Arava, the Galilee, Mt. Hermon, Mt. Tabor and the Golan Heights. Herbs and spices that grow in these areas are considered to have the best aromatic flavor in the world.
Review this product
Please log into your account to Add Your Comment.