Dead Sea Salt with Garlic
Dead Sea Salt with Garlic by 424 Below Sea Level, 110 g / 3.87 oz Glass bottle with built in grinder 110 g / 3.87 oz
Item # : FD061GC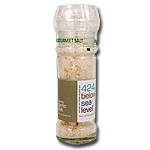 Dead Sea Salt with Garlic
by 424 Below Sea Level
Glass bottle with built in grinder
110 g / 3.87 oz
All natural Dead Sea Salt is mixed with dried slices of aromatic, flavorful garlic. This is a traditional blend, however, other garlic salts cannot even compare to this gourmet version. The flavors are exceptionally rich and intense and will add to any culinary experience. Garlic Dead Sea Salt is very versatile, perfect for pizza, poultry, pasta and vegetables.
Free of chemicals and additives
Certifications:
424 Below Sea Level Salt is enriched with the unique blend of 21 natural minerals from the Dead Sea. It has been certified as 100% natural for seasoning and cooking and as authentic Dead Sea product by the Israel Ministry of Agriculture and Rural Development.
The Secal Israel Israel Inspection and Certification working with the EU Control Union Certifications has approved that the salt in this product is 100% natural from the Dead Sea. The Salt is produced through a natural evaporation process and contain to additives or processing aids.
EcoPeace Friends of the Earth Middle East preformed an environmental assessment of the impact on the Dead Sea regarding the 424 Below Sea Level Salt company and concluded that the company has no significant impact on the water levels or surrounding environment of the Dead Sea area.
Review this product
Please log into your account to Add Your Comment.