Artistic Camel by Israeli Artist Alla Pikovski Original Metal Sculpture
Colorful Artistic Camel. Original Art Work by Alla Pikovski. Size: 9 1/4 x 10 3/4 inches | 23 x 27 cm
Item # : DC276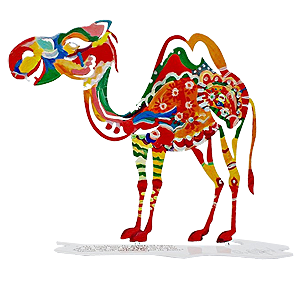 Artistic Camel Original Metal Sculpture
by Israeli Artist Alla Pikovski

Beautiful piece of original sculpture from Israeli artist Alla Pikovski. The sculpture is created with laser cut metal and printed in both sides. Please note this will take at least 2-3 weeks for delivery.

Description of this piece from the artist:

The camel is known as the ship of the desert, living in conditions of shortage and hardship, hoarding and surviving. When it finds abundance it consumes and stores for long hard days. Thus, even with difficulties of survival the camel walks strong, solid, stable, and tall. A true model for emulation. In this work, the Artistic Camel, Olivier has embraced this remarkable animal and has given it two different color designs, and even a dedication on the sculpture base, describing his feelings when creating it.
This artistic camel is "messy", rich and wild. A pattern within a pattern, a textural attack from every direction that provides a continual experience of discovery and wonder. Take a few moments and peruse the rich artistry of this little figure.
Review this product
Please log into your account to Add Your Comment.