White Gold-filled Messianic Star Pendant with Zircons
Messianic Star Pendant, White Gold-filled with Zircons
Item # : PN450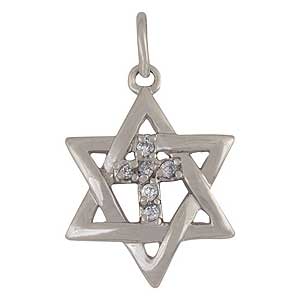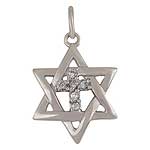 Stock Review
Material Color:Silver Size:One Size Top Color:Silver - In Stock
Gold-filled Messianic Star Pendant with Zircons
by Israeli jewelry designer Marina
The Messianic Star symbolizes the interrelationship of the Followers of the Way and the living faith of Abraham, Isaac and Jacob. Formed with a traditional
Star of David and the Cross of Yeshua at its center, this messianic symbol merges the O
ld Testament and the New Testament, Judaic traditions and Christian traditions. The Star of David, or Magan David, is six pointed because it signifies that G-d is all around us: north, south, east, west, above and below. When the center of the star bears an image of a cross it becomes a Messianic Star and puts Yeshua at the center of it all.
This Messianic Star of David pendant is white gold-filled and the crosse is encrusted with beautifully sparkling zircons.
Review this product
Please log into your account to Add Your Comment.