Gold-filled Messianic Star Pendant with Clear Crystals
Messianic Star of David Pendant, Gold-filled with Clear Crystals
Item # : PN447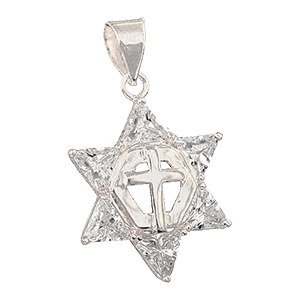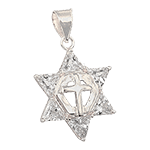 Stock Review
Material Color:White Gold - Out Of Stock
Gold-filled Messianic Star Pendant with Clear Crystals
by Israeli jewelry designer Marina
Messianic symbols blend the foundations set in the Old Testament with the teachings of Yeshua in the New Testament. They represent how Torah based beliefs are companionable with the beliefs of Believers. The Star of David with a cross at its center is one such symbol. In Hebrew the Star of David is called the Magen David – the Shield of David. David believed that G-d was his protector much like the shield on the battlefield. Thus David's Shield has come to represent G-d's protection of His faithful. When a cross is placed at the center of the Magen David, it states that Yeshua's sacrifice is central in belief of G-d's protection.

This Messianic Star of David pendant is gold-filled with sparkling clear crystals covering each of the six arms of the star.
Approximate dimensions: 3/4 inch x 3/4 inch | 2 cm x 2 cm

Review this product
Please log into your account to Add Your Comment.