City Hobo Bag with Jerusalem Pink/White Matte
Black canvas bag with white and pink matte letters spelling JERUSALEM. I ♥ Jerusalem Coin Purse included.
Item # : BG016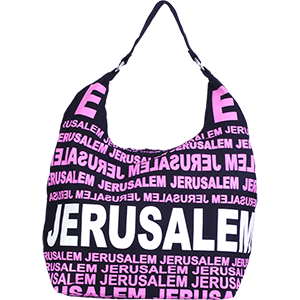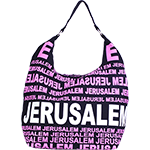 Stock Review
Color:Pink/White - In Stock
Jerusalem Hobo City Bag with White and Bright Pink Matte Design

Form and function come together perfectly in this Hobo City Bag from Jerusalem. The perfect size for work, play or shopping, you won't to wrong taking this bag where ever you go. The handles are an excellent lenght for all day use and the complimentary change purse makes the bag even more useful. So if you want a useful tote, but don't want to give up style, this bag is for you.

Dimensions: 18 1/2 x 13 inches | 47 x 33 cm
Strap length 23 1/2 inches | 60 cm
Review this product
Please log into your account to Add Your Comment.