Military Style IDF Hat, Israel Camouflage
100% cotton hat in the ever popular Military style, very relaxed and cool. Made in Woodland Camouflage pattern used by the United States Navy SEALs, but with an Israel flag on the side.
Item # : HT002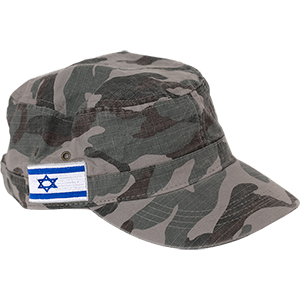 Military Style Hat with Israel Flag in Woodland Camouflage

Get that military look that is so popular right now with this camouflage hat. Great for men and women, this hat will give you that relaxed cool vibe. Every bit as comforatble as it looks, the back adjusts to fit most. The pattern is the Woodland Camouflage originally used by US Navy SEALs, then used throughout the US Military. This hat will show you support the Israel Defence Forces with a small Israel Flag patch on the side.
Review this product
Please log into your account to Add Your Comment.