Chai Hat by Keter
100% cotton snapback hat. Embroidered on the front is the Hebrew word 'Chai' which means life. A popular motif on jewelry and clothing.
Item # : HT070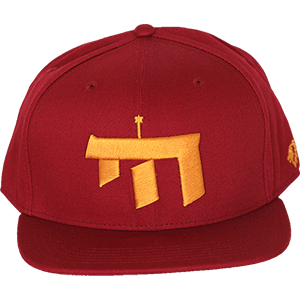 Stock Review
Color:Black - In Stock
Color:Red - Out Of Stock
Chai Hat by Keter

100% cotton hat. Snapback closure. Unisex.

The word Chai written like it is on this hat, is also a symbol. It comprises of two letters of the Hebrew aleph-bet, a chet (ח) and a yud (י). It means "life" and is a very popular motif to express the living your life to the fullest.

Made by Keter. Keter hats are a premier Israeli hat brand. Worn by Israeli pop music artists, these hats are bold and hip, but always with a message. Keter does not cut corners in quality, all hats are designed by the most contemporary Israeli graphic artists and are created with a combination of hand and machine made.
Review this product
Please log into your account to Add Your Comment.