Black Tel Aviv Snapback Hat by Keter
100% cotton snapback cap. Hat is thickly embroidered with "Tel Aviv" written vertically, very stylish and hip.
Item # : HT064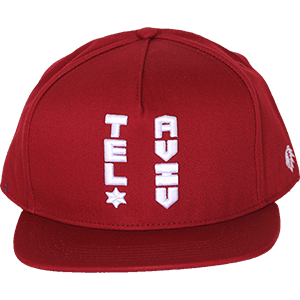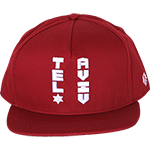 Stock Review
Color:Black Type:Baseball Cap - Out Of Stock
Color:Red Type:Baseball Cap - In Stock
Black Tel Aviv Snapback Hat

100% cotton hat. Snapback closure. Unisex.

Tel Aviv is Israel's thriving metropolos. It is a modern city, with a lot of old charm. Here you will find high tech business headquaters and the Karmel Shuk, skyscrapers and beautiful Mediterranian sandy beaches. This suprt cool hat stands out with its bold, thich embroidery of Tel Aviv written vertically. Available in red or black.
Made by Keter. Keter hats are a premier Israeli hat brand. Worn by Israeli pop music artists, these hats are bold and hip, but always with a message. Keter does not cut corners in quality, all hats are designed by the most contemporary Israeli graphic artists and are created with a combination of hand and machine made.
Review this product
Please log into your account to Add Your Comment.