Yom HaAtzmaut:
Am Yisrael Chai
We have been on an emotional roller-coaster for the past three weeks. First we experienced a week of joy of freedom and the birth of the Jewish nation at Passover, then a week later the devastating sorrow in recollection the Holocaust on Yom Ha Shoah, five days later we mourn those who gave their lives for Israel on Yom HaZikaron and now the day after, we have come full circle back to joy as we celebrate the re-birth of the modern State of Israel at Yom HaAtzmaut.
For the past 24 hours we, the citizens of Israel, have been observing Memorial Day or Yom HaZikaron. It is a day of somber mourning for the soldiers, police and security services as well as victims of terror. Tonight we guide ourselves through the last hurdle of this emotional turbulence as we transition from joy to sorrow to celebrate our independence.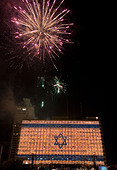 In Israel Memorial Day was purposely placed as the day before Independence Day to remind us each year of the cost of freedom and independence. Tonight at 8 pm the third siren in a 24 hour period will sound as we will raise the flags from half-mast in honor of the fallen to full-mast to celebrate Israel.
We will sing our national anthem, HaTikvah – The Hope – as we gather in our communities to celebrate another year of Israel. Little We will wave little Israel flags, our children will belt out songs of freedom, we will jive to folk dances, we will eat delicious foods until we are sick, then we will turn our heads upward as fireworks paint the sky. Israel will rejoice.
The next day we relax with family and friends by picnicking, hiking and barbecuing. Military bases are open for tours and the mighty Israel Air Force preforms nation-wide flybys of fighter planes. The weather is usually warm making it a perfect day to be outside enjoying our beautiful country.
There is an overwhelming feeling of "Am Yisrael Chai"… the people of Israel live. The joy is contagious, you are lifted up by your surroundings, by friends and strangers who are all linked by this joint knowledge that we are still here. There is a special feeling of belonging and connection, to one another, to the State of Israel and to something even greater.
Celebrate with us! You too can be part of this special connection of Israel. Fly your Israeli flags, wear your "I love Israel' t-shirts, show your support of Israel anyway you can. Now more than ever we need our friends to yell from the mountain tops that you support us. Help us tell the world "Am Yisrael Chai!"
God bless each of you and God bless Israel!