The Benefits of Salt: Skin Care 101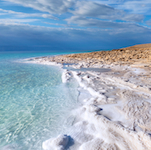 The Dead Sea, the lowest place on earth, has been attracting visitors to its shores for centuries. Its waters have been known for their therapeutic properties for almost as long.
The Dead Sea waters are unique in that they contain 27% of numerous salts as compared to 3% in normal sea water. Additionally, sodium accounts for roughly 80% of the salt content of normal sea water and comprises considerably less of the salt total in water from the Dead Sea.
The balance of the salts in Dead Sea water are magnesium, potassium, calcium chloride and bromides. These minerals are essential for your body's health and can help cleanse and detoxify it. Potassium, for example, is needed to maintain water balance in your body. An imbalance of this mineral frequently results in water retention. Calcium is vital for strengthening cell membranes and cleansing your pores. It also is necessary for producing and maintaining healthy teeth and bones and regulating your heart muscles and nerves. Bromides help to ease muscle stiffness and relax muscles. Sodium is important for the lymphatic fluid balance (which is important for immune system function).
Following are some of the benefits of using Dead Sea salts
One way to reap the benefits is by using bath salts. Simply run a bath, pour the salts into the water as indicated, lie back, relax and let the minerals of the Dead Sea work their magic. This is highly effective when it comes to relieving muscle pain and tension and alleviating skin disorders, like athlete's foot, eczema and psoriasis. As you can see, bathing in high quality sea salt could replenish the minerals which are critical to our skin metabolism.
If you decide to soak your body in bath salts be sure to use the type that is sold for this purpose. Many salts used in baths are treated before they are sold. As a result, many important minerals are removed. Don't use ordinary table or common salt.
Acne is probably the most common skin disorder with nearly 90% of all adolescents suffering from it. Dead Sea salt is high in sulfur, which is a powerful cleanser that has been proven to treat acne effectively.
Dry skin is also common. Dead Sea water is an effective treatment. It nourishes your skin and replenishes much-needed moisture.
The high magnesium and bromide content in Dead Sea Salt acts as an anti-allergic as it cleanses and detoxifies your skin.
Dead Sea salt pushes the toxins out of your body, making your skin softer and healthier. It also enhances your skin tone.
Wrinkles and fine lines appear as a result of many factors, such as stress, heredity, climate, sun exposure and malnourished skin. As we age, our skin becomes less resilient and elastic, due to a natural decline in collagen and elastin in our skin cells. Research has shown that using Dead Sea Salt reduces wrinkling. The minerals also moisturize, detoxify and soften your skin and enhance relaxation of the body so you look and feel younger.
Phosphorus and Magnesium play a vital role in repairing damaged tissues. Applying the sand of the Dead Sea or swimming in its water helps to repair it.
The texture of Dead Sea salt acts as an exfoliator. It removes the top layer of dead skin cells, uncovering a fresh one.
Maintaining mineral balance is critical to staying healthy. Thanks to its distinctive ingredients, Dead Sea Salt can help you attain all that while keeping your skin smooth and young looking.
JesusBoat.com offers a wide variety of products from the Dead Sea from established and reliable Dead Sea cosmetics companies.
---