Scripture Ring, Silver and Gold
Beautiful scripture ring in sterling silver and 9 kt gold. Comes in your choice of 4 different popular scriptures written in Hebrew. Write the ring size (in your local size) in the space provided.
Item # : RG21P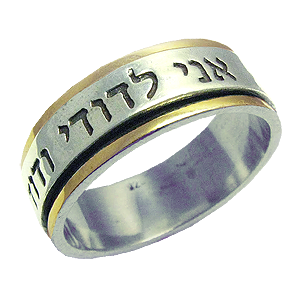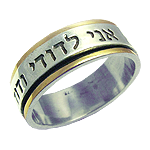 Stock Review
Scripture:If I Forget Jerusalem - In Stock
Scripture:My Beloved - In Stock
Scripture:Aaronic Blessing - In Stock
Scripture:Shema Yisrael - In Stock
Spinning Scripture Ring in Sterling Silver and 9kt Gold

Please enter your ring size in the provided in field.

A lovely ring that can be used as a wedding ring (My Beloved), as a baptism gift (Shema Yisrael), as a graduation gift (May the Lord Bless You) or for yourself as a declaration of your love of Jerusalem (O Jerusalem). Any of these amazing scriptures can be used for any of the above occasions, these are the rings' most popular uses.

Available scriptures:

Song of Songs 6:3: אני לדודי ודודי לי (I am my beloved and my beloved is mine)

Psalm 137:5: אם אשכחך ירושלם (If I forget you, Jerusalem)

Aaronic Blessing, Numbers 6:24: יברכך יהוה וישמרך (May the Lord bless you and keep you)

Shema Yisrael, Deuteronomy 6:4: שמע ישראל יהוה אלהינו יהוה אחד (Hear O Israel, the Lord our God, the Lord is One)
Review this product
Please log into your account to Add Your Comment.