Amethyst Star of David Necklace
Polished piece of Amethyst with a sterling silver Star of David and fittings and hangs on a leather cord. The purple quartz is the stone of dreams and was included in the Priest's Breastplate.
Item # : PN131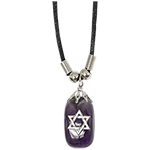 Stock Review
Material:Silver - In Stock
Amethyst Star of David Necklace

Polished Amethyst with Sterling Silver Star of David on a Leather Cord.

Amethyst in Biblical times was considered one of the most precious stones in the world. It was found on the breastplate of the high priest ( Exodus 28:19 ; 39:12 ), and in the foundation of the New Jerusalem ( Revelation 21:20 ). The Hebrew name is 'ahlamah' , derived from the word halam , "to dream". It is said to help you dream as well as fulfill the dreams and aspirations as God has chosen for you.
Review this product
Please log into your account to Add Your Comment.