Tres delfines - camiseta
Tres delfines -Camiseta de algodón 100% de alta calidad.azul.Tallas unisex
Articulo # : TH046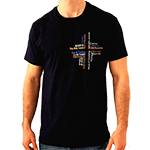 Stock Review
color:azul Corte:Unisex talle:small - In Stock
color:azul Corte:Unisex talle:medium - In Stock
color:azul Corte:Unisex talle:large - In Stock
color:azul Corte:Unisex talle:x-large - In Stock
color:azul Corte:Unisex talle:xx-large - In Stock
color:azul Corte:Unisex talle:xxx-large - In Stock
color:Celeste Corte:Unisex talle:small - In Stock
color:Celeste Corte:Unisex talle:medium - In Stock
color:Celeste Corte:Unisex talle:large - In Stock
color:Celeste Corte:Unisex talle:x-large - In Stock
color:Celeste Corte:Unisex talle:xx-large - In Stock
color:Celeste Corte:Unisex talle:xxx-large - In Stock
Tres delfines - camiseta

Camiseta de algodón 100% de alta calidad.

Esta camiseta de Walter Ferguson tiene tres delfines saltando en el frente y en la espalda.En Israel se pueden ver delfines en la costa del sur del mar rojo en la ciudad de Eilat.

Disponible solamente en azul.

Tallas disponibles :
Small
Medium
Large
X-Large
XX-Large
XXX-Large


JesusBoat.com lista de tallas para camisetas
Por favor ,utilice la siguiente tabla para determinar cual es la mejor talla para usted.
camisetas para adultos : hombres y mujeres en cm

talla

ancho

largo



Walter Ferguson nació en Nueva York en 1930.Ha dibujado desde su niñez.Recibió su entrenamiento formal en la escuela de artes finos de la universidad de Yale y el instituto Pratt.El señor Ferguson siempre ha combinado dos disciplinas,arte y zoologia.Ha ilustrado veintiseis libros,escribió e ilustró "
Living Animals of the Bible",(animales vivos de la Biblia),y numerosos articulos de revistas.Sus pinturas aparecieron en la revista LIFE,
The New York Times, Audubon Magazine y muchos mas.Sus obras han ayudado para la recaudación de fondos para ayudar a las especies de animales en peligro de extinción en Israel.


El señor Ferguson se mudó a Israel en 1965,enzeñó brevemente en la escuela de artes de Bezalel en Jerusalen,y luego se convirtió en artista para el departamento de zoologia de la universidad de Tel Aviv por mas de veinte años.

Walter Ferguson esta casado y tiene cuatro hijos.Su casa y estudio estan en
Beit Yannai, Israel.Las pinturas del señor Ferguson forman parte de colecciones privadas en muchos paises.
Revisar este producto
Por favor ingrese para comentar.